| | |
| --- | --- |
| Posted on May 10, 2014 at 3:20 PM | |
A little history of Marion Square... Also a great place for movies in the park during the spring & summer time!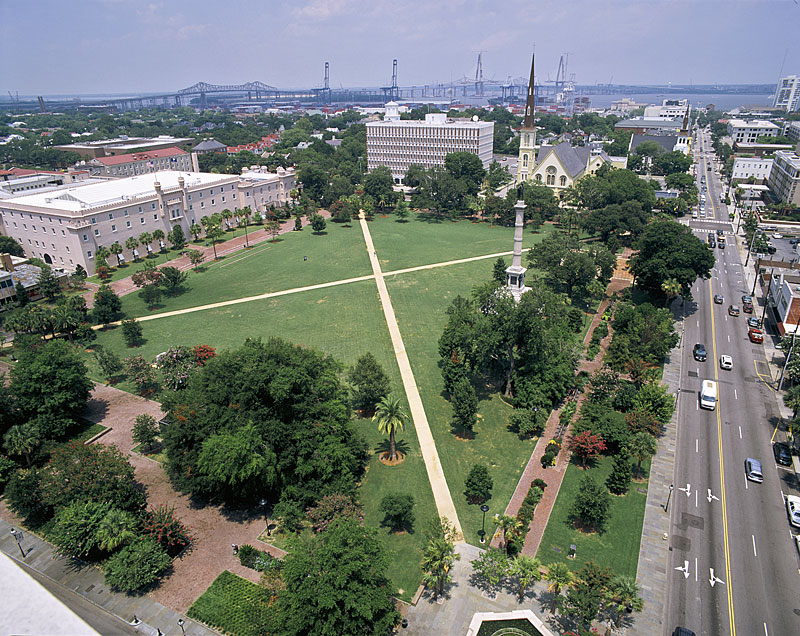 Marion Square is greenspace in downtown Charleston, South Carolina, spanning six and one half acres. The square was established as a parade ground for the state arsenalunder construction on the north side of the square. It is best known as the former Citadel Green because The Citadel occupied the arsenal from 1843 until 1922, when the college moved to Charleston's west side. The name was then changed to Marion Square, in honor of Francis Marion.
The space is a favorite place for College of Charleston students because of its proximity to campus. In 2003, city council member Wendell Gaillard proposed banning sun-bathing in Marion Square ("This 'Girls-Gone-Wild'-type attitude has caught ahold all across the country. We don't want it to get to that point . . .," Gaillard said), but his proposal was met with little support; Gaillard claimed that exposing churchgoers and families to sunbathing was wrong and that sun-bathing students might attract stalkers to the area.
The square is the home to many monuments, including a Holocaust memorial and a statue of John C. Calhoun in cast bronze atop a giant pillar. In 1944, a bandstand in the Art Moderne style was built according to plans by Augustus Constantine. The structure had originally been planned to house restroom facilities for white servicemen, but a bandstand component was added to the plans. The bandstand became a spot for political rallies, but the restrooms were a constant problem because of vandals. The bandstand was ultimately razed during a refurbishing of the park that began in August 2000 and concluded in 2001. The bandstand had been in very poor shape since at least 1961 when city council approved its removal.
During the summer the square is also the home to a farmers market on Saturdays and various festivals such as the Food and Wine Festival and the renowned Spoleto Arts Festival. Since 1913 a tree has been placed in Marion Square for the Christmas season.
Categories: Downtown Charleston
/