| | |
| --- | --- |
| Posted on June 9, 2014 at 4:15 PM | |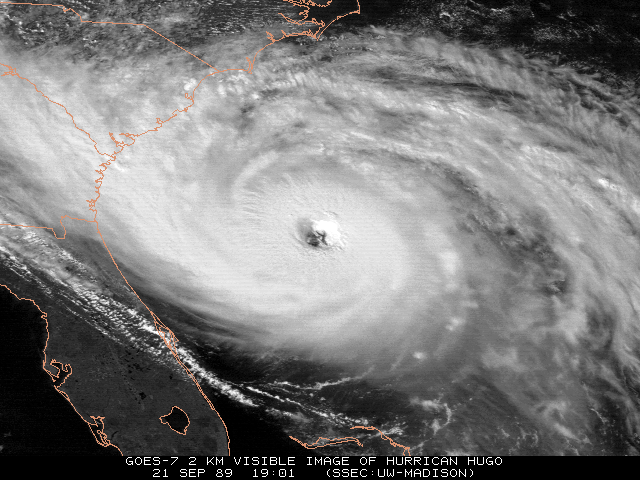 A Cape Verde storm in the North Atlantic Ocean, Hugo intensified dramatically and was already classified a Category 5 hurricane on the Saffir-Simpson Scale while positioned well east of the Leeward Islands in mid-September 1989.
Hugo then turned toward the northwest. Hurricane warnings were issued for the Virgin Islands and Puerto Rico. As the hurricane proceeded northwestward, the eye wall scraped the northeastern tip of Puerto Rico. Twelve lives were lost on the island and $2 billion in damage was reported. There was enormous damage in the US Virgin Islands where St. Croix was leveled.
After Hugo's interlude with Puerto Rico, the National Hurricane Center (NHC) downgraded it to a Category 2. Preparations for the storm were made from Florida to the Carolinas. By Wednesday, September 20th, it became apparent that Hugo was heading for the South Carolina coast.
Emergency management officials prepared the area for a Category 2 hurricane, but on Thursday, the hurricane began to intensify rapidly. By Thursday afternoon, it became apparent that Hugo was going to be a significant hurricane.
Hurricane Hugo made landfall northeast of Charleston, South Carolina, near midnight on the night of September 21st and the storm surge was estimated at over 20 feet.
Fortunately, the eye of Hugo passed just north of Charleston, and the storm surge was highest in an area that was not highly populated.
Had the eye passed even 20 miles to the south, much of the Battery district of Charleston would have been overrun with water. Considering the number of news crews operating in the area, many lives would have been lost. As it was, much of the communities of Folly Beach, Sullivans Island, Isle of Palms, and McClellanville were heavily damaged.
Sustained winds were in excess of 135 miles per hour as Hugo made landfall as a Category 4 hurricane. Another surprise for the forecasters happened inland. Because Hugo's forward movement was nearly 30 miles per hour, the storm remained strong as it moved up through South Carolina into North Carolina.
Hurricane force wind gusts resulted in tree and power line damage as far inland as Charlotte, North Carolina. The remnants of Hugo moved into West Virginia and western Pennsylvania. Damage was estimated at over $7 billion.
Categories: Downtown Charleston, East of The Cooper
/